Once you get past the grossness of your parents doing it, I'd think the story of your own conception and birth would be kind of interesting to most people. To me, it is. What follows is the story of my beginning, with most of the details from my mother.
In December 1975, my mother and father were in Toronto for Christmas with family friends Linda and Harry. They were staying at the Harbour Castle Hilton, right on the shore of Lake Ontario. One evening, the magic happened.
That hotel still exists today as the Westin Harbour Castle. I've thought about making a pilgrimage there, but that might be a bit creepy for both me and the hotel staff.
After returning from Toronto, my Mom and Dad took a cruise with some other family friends down to Jamaica in January. On the ship, my Mom noticed that she was burning easily, but she attributed that to the strong Jamaican sun. She also felt a bit nauseous, but she attributed that to seasickness form the rocking cruise ship.
Back at home, my Mom washed some expensive, French slacks she had recently purchased and found that she couldn't zip them all the way up. She had shrunk them in the wash, she thought, and was angry that she had tried to save $2 by not taking them to the dry cleaners.
In February, my Mom started having some unusual symptoms and felt very tired. My Dad was down in Florida making funeral arrangements for his grandfather who had just passed away, so my Mom drove herself to see her doctor. Dr. Kapusta broke the news.
"You are eight weeks."
"Eight weeks what?"
The pregnancy was a surprise, as my Mom was quite content with the three children she already had and wasn't planning on having any more. On top of the surprise, there were some complications, and no one knew if my Mom or the baby would be OK.
A few days later, immediately after my great-grandfather Willy's funeral, my Mom's unusual symptoms subsided and she felt normal again. The rest of the pregnancy was perfectly normal. Perhaps this is why I was almost named William.
In the early morning of Wednesday, September 22, 1976, my Mom started having labor pains. My Dad needed to stay home to send the other kids off to school, so family friend Harry took her to Montreal's Jewish General Hospital. An hour later, my Dad made it to the hospital and headed to the maternity ward.
"Excuse me, sir, where you going?" one of the nurses asked.
"My wife is in labor," my Dad replied.
"Sir, there's only one lady in labor right now and she already has father in there."
"I don't care if that's the father, I'm the husband. That's my wife, and I'm going in!" my Dad proclaimed without missing a beat.
At 2:05 PM, I came out. 7 lbs. 1 oz. and perfectly healthy.
My Uncle Irving was the first person to make it to the hospital.
"Couldn't keep your legs closed for one more day?" he joked. His birthday was the next day.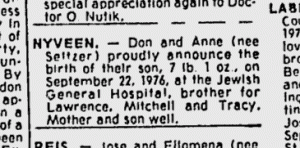 Here's the Montreal Gazette on the day after my birth. You can see my birth announcement on page 36.
According to my Mom, I was remarkably cute and well-behaved as an infant. My three older siblings were thrilled to have a new baby brother, taking turns showing me their rooms and napping with me. Life was good for baby Jeff. Then I grew a goatee and started making web sites.
Am I the only one who's interested in how they were made?