I just returned from a road trip that I took across Arizona with my mother for her birthday. We hit the Grand Canyon, Monument Valley. All in all, a great adventure. Great sights, fantastic weather, but every time we came into a new town, we had to find good places to eat. In the Grand Canyon gateway town of Tusayan, we chose poorly.
After a long day of driving and sunset at the Grand Canyon, we wanted to grab dinner at the cozy El Tovar Lodge inside the national park, but they were booked for the rest of the evening. So as we headed out of the park, I consulted the normally reliable TripAdvisor for dinner suggestions.
The #1 ranked RP's Stage Stop sounded good, but I wanted more than sandwiches and coffee for dinner. Plaza Bonita was rated #2, but I wasn't really craving Mexican. Next on the list was the Coronado Room. Ranked #3 of 13 restaurants in Tusayan. Certificate of Excellence 2013. Continental fare. Decent reviews. OK, let's give it a shot.
We drove up and down the street looking for it and finally found it INSIDE a Best Western. That should have been my first hint that I was not about to enjoy a fine dining experience.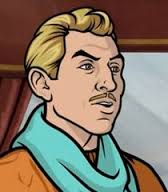 After putting my name on the waiting list, I leaned over the bar and thought about getting a drink. A guy sitting at the bar who looked and talked like Ray Gillette from Archer made a recommendation.
"This guy," he said as he pointed at the bartender, "makes a killer Mai Thai. You should try it."
Lacking inspiration, I ordered the Mai Thai. It was far from killer. A few minutes later, the pedophile-looking guy got up and started playing the piano at the front of the restaurant.
After a few minutes, we were led to our table. As one TripAdvisor review had noted, the decor DOES look like it's from 1973. I'd even go 1953. Dated curtains, dropped ceilings, almost no personality. Pictures hanging on the opposite wall were badly out of alignment. Decor like this doesn't bode well for the food.
Twenty minutes later, we still hadn't been greeted by a waiter. The only person who seemed to pay us any attention was the enthusiastic but strangely withdrawn water boy. Every few minutes, he would return to fill my Mom's water glass while mumbling and avoiding eye contact.
We grabbed the hostess and asked her who our waiter was. She said she would try to get someone for us.
A woman who appeared to be the manager on duty finally came by to take our order. When we asked her for recommendations, her responses were useless. Everything was good, nothing was better than anything else, and it all depended on what we were in the mood for. Obviously, she has the sense not to eat here. She hurriedly took our order on a napkin and disappeared.
The older couple behind me WAS being served. As their waiter placed their dinner plates down, he asked, "Is everything OK? Because I'm busy."
The same guy, presumably also OUR waiter, returned a few minutes later with our appetizers. Caprese salad and elk sate. The long rectangular appetizer plates fit clumsily into our round dinner plates, sliding to one side and teetering each time you pressed your fork into them to take a bite.
The elk was moist but a little gamey. The Caprese salad was pretty good, but how hard is it to make a decent Caprese salad? You can't really screw it up.
After finishing our appetizers, I was somewhat put off when the waiter came to our table and placed a dirty plate from another table shmeared with what looked like strawberry yogurt right in front of me. That maneuver made it easiest for him to carry a single stack of dirty plates to the kitchen.
OK, he was a little rough around the edges, but every time I looked up, our waiter was really hustling. It seemed that he was handling half of the restaurant by himself. Maybe they're understaffed, and he's trying his best to keep up. I gave him the benefit of the doubt.
As the water boy came to fill my Mom's 90% full water glass, the couple behind me continued their conversation with the waiter.
"Is it local elk?" the man asked.
"Funny you should ask that," the waiter replied. "We get it shipped from New Zealand."
Really? Driving up and down the Grand Canyon, there are road signs reminding people to watch for elk. Pictures on the outsides of restaurants show elk happily eating grass off their lawns. They seem to be everywhere. And the Coronado Room has elk shipped from New Zealand?
Finally, our meals came. The prime rib and lamb were both mediocre. Three of my roasted potatoes were good, the rest were soggy. My green beans squeaked in my mouth as I chewed on them. No doubt all of it was shipped from New Zealand.
We waited another half hour for the check to come, which gave the autistic water boy several opportunities to keep filling my Mom's water glass. By the time our waiter returned with a check, he had applied a 10% discount to it for all of the waiting. Problem was that the check was meant to be billed to a room, and we were not staying at the Best Western. Applying a similar discount to a new check payable by credit card proved to be difficult. The waiter disappeared again.
The water boy returned to fill my Mom's water glass. He was very good at filling water, but he seemed to have difficulty with anything else. When we asked him if he could help us find a manager, a waiter, anyone to pay our check, his expression indicated that this was clearly too much responsibility.
We flagged down the manager told her that this was perhaps the worst restaurant service we had gotten in a long time. As we were unloading on her, I glanced to the next section and saw that our waiter had an identical twin. I was disappointed to learn that what I thought was one person doing the work of two people was actually two people doing the work of half a person.
The courteous manager ended up giving us a generous discount on dinner. But you couldn't pay me to go back to this place.