We're here. Game 7 of the World Series. The Washington Nationals have defied all odds to get here. They weren't even supposed to make it to the playoffs, let alone the World Series. Along the way, they trailed in and eventually won all 4 playoff elimination games they've been in, riding on the backs of heroes like Howie Kendrick, Juan Soto, Anthony Rendon, Stephen Strasburg, Max Scherzer, Adam Eaton, and even Anibal Sanchez. Manager Dave Martinez even had his moment in Game 6, getting thrown out of the game fighting for his players. You couldn't have written any of this any better.
The Astros have proven tough, with guys like George Springer (who swings so damn hard), Jose Altuve (who hits everything), Alex Bregman (who hits bombs), and even Yuli Gurriel (who can somehow hit balls a foot inside) scaring me every time they come to the plate and studs like Justin Verlander and Gerrit Cole taking the mound. But the Nats have hung on, grinding and gritting out wins when they needed them most.
Tonight, on the mound, it's the unflappable, intense, infinitely competitive pitching machine called Max Scherzer against Zach Greinke, a guy who looks like a vegetarian heroin addict. Scherzer woke up two mornings ago with debilitating neck spasms that left him unable to dress himself or turn his head. Somehow, today, he's going to find the fire to pitch in Game Seven of the World Series. In the words of Scherzer after Game 6, "It's Game 7. Let's go."
This is no doubt the biggest game in Nationals franchise history. Being from Montreal, I have a deeper rooting interest and additional historical perspective here, and I think I appreciate the magnitude of this moment more than most DC baseball fans. I moved to the DC area in 2005, the same year the Expos did, so there is a true sense of continuity for me. And the fact that this World Series is against Houston, the team I grew up watching (from Nolan Ryan and Glenn Davis to Jeff Bagwell and Craig Biggio) and a team that has established itself as a dynasty over the last few years, makes it even sweeter.
I'm going with Jena to the watch party at Nationals Park tonight. As usual, I'll be taking a lot of pictures, but I decided I'm going to live-blog the experience as well.
Bring it.
---
6:45pm
Parked at Anacostia station on the Green line. Tried parking here for the last Nationals Park watch party we went to, and it's fantastic. You avoid all the madness and crowds pouring into Navy Yard from the north, instead approaching from the south, which pretty much nobody does. Tons of parking in a giant outdoor parking garage, and if you can find the broken meter, it's free! The metro ride is $2 and takes about 5 minutes to go one stop to Navy Yard. This is DC baseball's best-kept secret.
Things were delayed a bit because I needed to clear my phone to make room for all the photos and videos I'll be taking tonight.
The forecast is for rain all night long. We have raincoats, an umbrella, and a blanket we stole from our Princess cruise over the summer.
---
7:08pm
Coming out of Navy Yard station, there really aren't many people on Half Street, the main thoroughfare leading to the big center field gates at Nationals Park. The crowd on the street is maybe 30% the size it was when I was here for Game 1 last week. The Bullpen, a courtyard of beer stands and drunks right next to Nationals Park, was overflowing last week, but it's nearly empty right now.
---
7:37pm
Made our way into Nationals Park, not much of a line. With some time to kill before first pitch at 8:07pm (I've always enjoyed these oddly specific start times), I wolfed down a hot dog, Jena got her chicken tender and fries, and we got nice seats along the left field side with a straight shot unobscured view of the scoreboard. Sit too far down, and your view is obscured by the new foul line netting or the cables supporting it, and that's just annoying. Downside is that all the covered seats are full and we're getting lightly sprinkled on.  Jena and I have agreed to tough it out. We tried to use the rally towels to wipe down the drippy seats, but they aren't really absorbent and just swirl the water around without really drying the seat.
They say 36,000 tickets sold for watch party, but looks like only about 5,000 in the park now.

---
7:53pm
Beefy guy with Bruce Harper Jersey sat down right in front of me. A lot of fans with old Harper jerseys have found ways to humorously deface them in honor of Bryce's recent departure from DC as a free agent, but this guy is rocking a pristine jersey.
---
7:59pm
The Fox broadcast finally appears on the scoreboard. That got the crowd going for the first time, with cheers and rally towels twirling.
Looks like the Nats are wearing the same alternate blues they've worn throughout the playoffs. They have to.
---
8:09pm
Trea Turner, batting lead-off for the Nats, hits a rocket line drive to third but Bregman snags it. It has begun.
I've enjoyed the walk-up music they play for our hitters at these watch parties. Nice touch.
---
8:21pm
Scherzer just completed the first. He looks completely normal. Strong. Got a good feeling.
---
8:34pm
Gurriel go boom. Line drive home run to left. Uh oh. Astros up 1-0.
Really hope the Nats win. It's just such a better story.
---
8:42pm
Soto with a clutch line drive catch in left to stop an Astros rally. The crowd likes it.
---
9:12pm
Aside from the Gurriel home run, not much going on this game. Pitcher's duel. Most impressive things so far has been Greinke's fielding. He's getting to every grounder in his vicinity, though he does get some credit for inducing soft contact with his weak-ass shit.
---
9:17pm
Crowd erupts in boos for a pro-Trump campaign commercial. Trump got more boos than any Astro.
---
9:25pm
My brother FaceTimes me from Minute Maid Park. He and his family got some sweet, last-minute seats for the game. He even had one for me if I could have found a way to get to Houston this afternoon.
---
10:10pm
OK, Jena and I are drenched and cold. Can't take the rain anymore. We got up to find some standing room in the concourse, though it's so crowded up here that you have to find an awkward angle to get a good view of the scoreboard. The concourse is filled with TVs, but they all lag a few seconds behind the scoreboard. It's annoying when the cheers of the crowd don't match the action.
Scherzer is out, Astros now up 2-0. Things not looking so promising.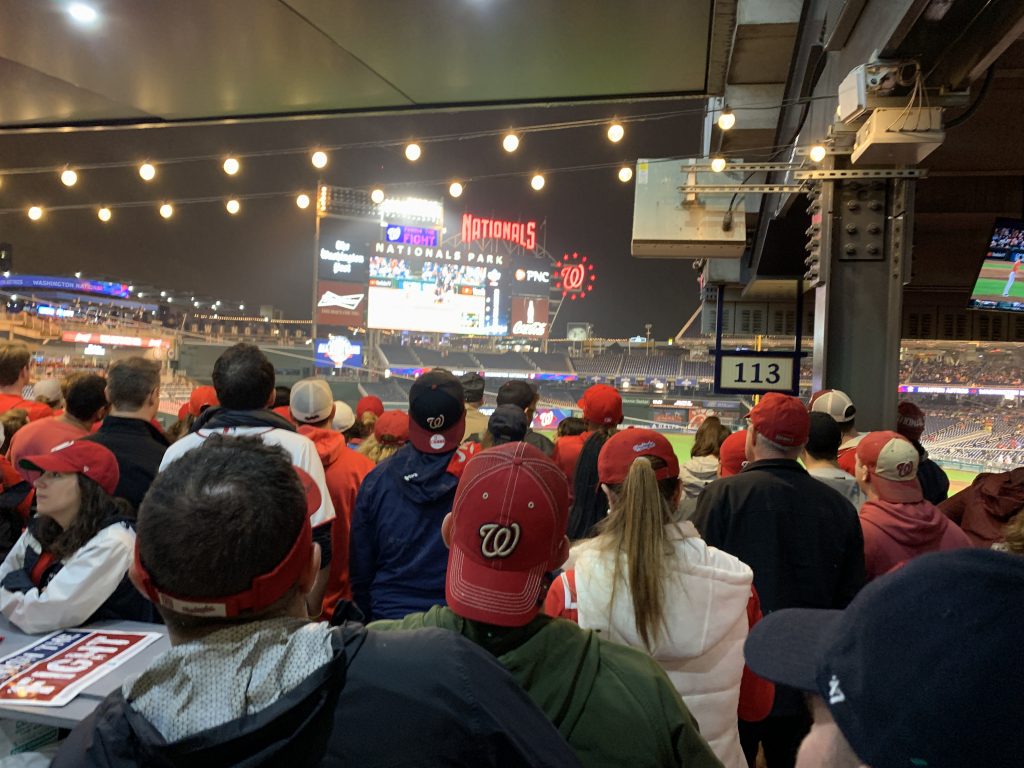 ---
10:28pm
Rendon just homered and Soto just walked. Things are happening. The crowd bursts into short cheers.
---
10:31pm
Kendrick bomb to give the Nats a 3-2 lead! Crowd is going crazy!
Kendrick didn't get good wood on it. The ball clinked against the foot of the right field foul pole and bounced onto the field. Looks like it was a bit lucky, but I'll take it!
Funny, we were standing in this EXACT spot at the end of the bar at the top of Section 113 when Kendrick hit his grand slam winner against the Dodgers to win the NLDS.
Later research would reveal that this was only the 4th lead-changing home run in Game 7 history and the first since Willie Stargell hit one for the Pirates against the Orioles in 1979.
Kendrick. Wow. He will never buy a drink in this town again.
---
10:59pm
With the game falling apart for the Astros, Fox has a shot of Greinke sitting in the dugout looking around like he doesn't know what day it is with eyes red like tomatoes. Looks like he's been crying.
---
11:12pm
As the game progresses with the Nats in the lead, the crowd is alive now. Every play causes a cheer and towel waving. Amazing how a lead will turn a crowd.
---
11:23pm
Corbin pitching some strong relief. He strikes out Jake Marisnick to end the 8th. The crowd starts chanting, "three more outs, three more outs!"
Someone made a comment that the Capitals won the NHL championship last year, and the Nats are going to win it this year. I joked that the Wizards would win the NBA championship next year, and the girl standing in front of me turned around and damn near slapped me. "Don't jinx it," she said half-jokingly.
---
11:25pm
The crowd goes nuts anytime they show the Nationals Park crowd or a shot of the Bullpen on the Fox broadcast. They even went nuts for a helicopter that flew overhead and shined a spotlight down on the crowd.
---
11:34pm
With the rain stopped, the seats have all filled in. There must be close to 20,000 fans here now. Everyone is happy.
---
11:57pm
WE DID IT!
Daniel Hudson strikes out Michael Brantley for the final out.
Crowd is going apeshit. Seems surreal. I'm watching and screaming and jumping and trying to take photos at the same time.
I had predicted that fans would rush the field after the win, but it didn't happen.
I turn around to see a super drunk guy twirling around with Jena. I thought they were doing some sort of celebration dance, but it turns out that he was black-out drunk and holding onto Jena for dear life. He finally lost his balance and toppled to the ground pretty hard. A few fans went over to check on him and sort of be helpful, but after confirming he wasn't dead and precariously propping him up on the bar, they quickly turned back to the celebration.
---
12:17am
Most fans stayed to watch the awards being presented on the field at Minute Maid Park. Strasburg won the World Series MVP award and received a trophy and Corvette. Well deserved.
But I'm a little disappointed that no one, especially Dave Martinez, mentioned that the win was for the Montreal Expos as well. There is an awkward history there that the Nationals seem to embrace at times (wearing Expos uniforms for a regular season game, selling Expos merchandise, some honorary Expos signage in the ballpark) but distance themselves from at others (never mentioning them in historically significant speeches). But here we are, we've just won the first World Series, and the former Expo managing the team doesn't say a word. Maybe he's not allowed to?
---
12:23am
The scoreboard is showing a "World Series Champion" logo alternating with a "Fight Finished" graphic. Weird message, but I guess it goes with the "Stay in the Fight" mantra for the Nationals that we've been hearing throughout the playoffs.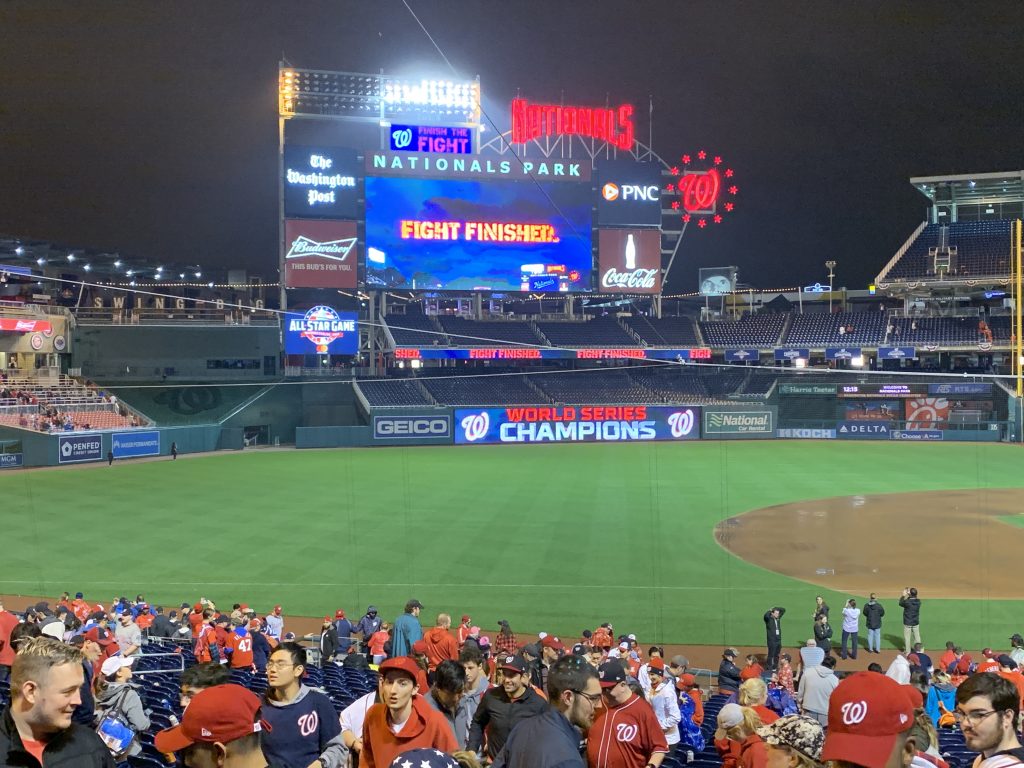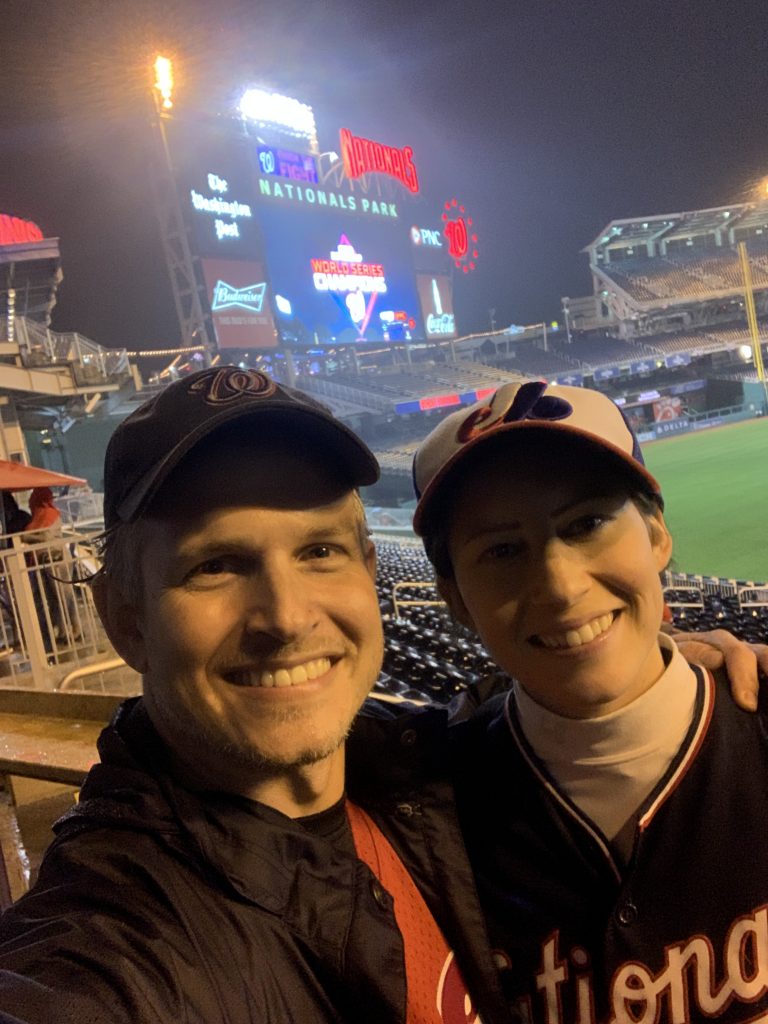 Went to the railing to get a few last photos of the championship scoreboard when a stadium worker in left field started yelling at people to go home. Really, dude?
---
12:28am
Walking out of the stadium, some guys have already have Washington Post newspapers with headlines proclaiming the Washington Nationals as champions, complete with a photo of the on-field celebration at the end of the game, which happened barely a half hour ago. How do they crank those out so quickly?
---
12:31am
Back on Half Street, heading to the metro station. There are a lot of people, but it's pretty quiet for a crowd of this size. There are a few screamers, but it seems like most people are just making their way home. Hey, this is a big deal, everyone!

---
12:42am
Navy Yard metro station is PACKED. But everyone is happy. Packed and happy is OK.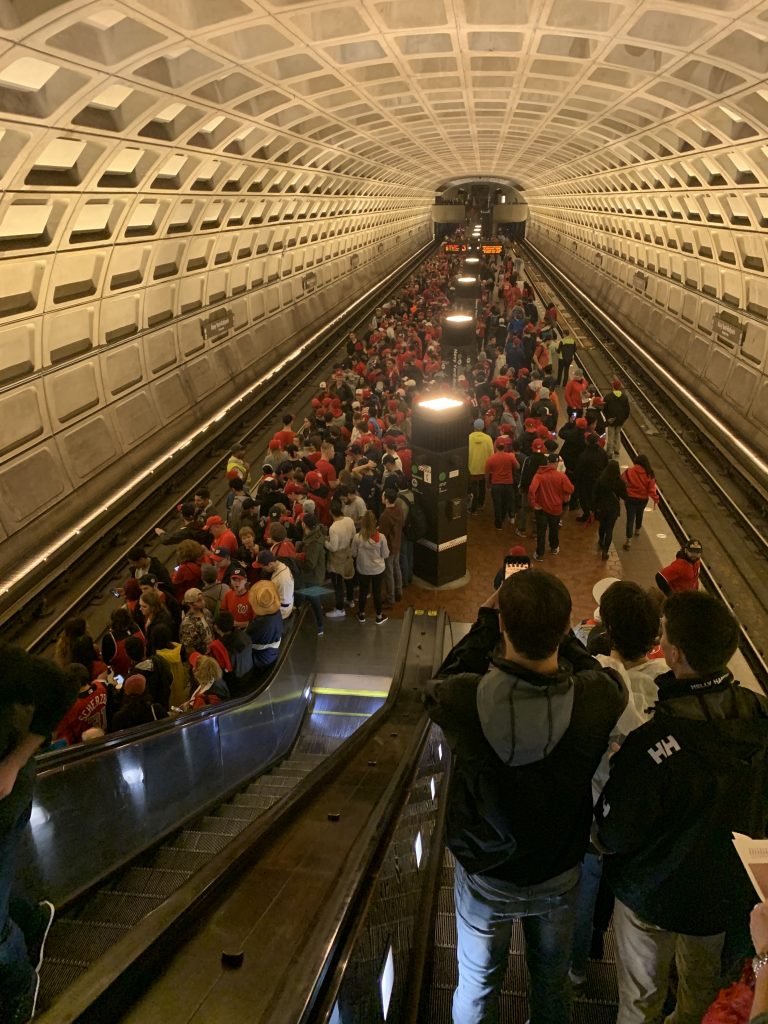 ---
1:17am
Back at home. They've already scheduled a victory parade for Saturday at 2pm. I'll be there!
---
9:08am
Woke up this morning to see my email inbox filled with Nationals celebration from companies like Dick's, Fanatics, and MLB Shop. It's kind of annoying how most of it is just advertisements for all the great Nationals championship gear you can get at affordable pries. It was nationals.com that sent me the first email, and that was at 1:02am, barely an hour after the game ended! There's even wine that has been branded for the World Champion Nationals.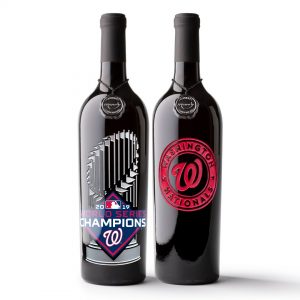 My Facebook feed is a mix of friends who were at the game, Expos fans still in Montreal who are resentful, and more ads for Nationals stuff.
---
9:30am
I rushed out to get some newspapers with the champion Nats on the front page, wondering if I was already too late. But I found every drug store and supermarket to have stacks of them. Did they print more today? Or do people not appreciate that this is a historical event? Or is it that there aren't really any fuddy-duddies like me who still collect newspapers when there are big events?
---
So that concludes the live blog.
The 2019 Washington Nationals are a heckuva story. Their 19-31 start to the season was the worst of any World Series champion in MLB history. At that point in the season, the Nats had a 0.1% chance of making the PLAYOFFS, let alone winning the Wild Card game, NLDS, NLCS, and World series. Wonder what the odds would have been for that? Truly astronomical. This was a group of journeymen, old guys, a blossoming superstar in Soto, baby sharks, dugout dances, a weird gear-shifting thing in the dugout by Eaton and Kendrick, the road wins, the five come-from-behind victories in elimination games… They went on to win their first championship in the 51-year history of the franchise. Truly a dream come true for any Nationals fan, especially one who appreciates their longer history with the Montreal Expos.
But something is missing. I don't think DC fans in general truly appreciate what has happened here. The crowd at the watch party didn't seem to care about the game at all early on. Lots of fans wore Capitals jerseys to the watch party because they couldn't be bothered to go out and get Nats gear. Immediately after the game ended, stadium ushers were shooing people out of the stadium so that they could go home. Walking down Half Street just after the game, the energy wasn't there. News stands were filled with untouched stacks of Nationals victory newspapers. Come on, people. This is something we should be celebrating for weeks, months, even years. Maybe the team is too new to DC and hasn't cultivated a multi-generational fanbase, or maybe times have changed and winning the World Series just isn't as big of a deal as it was when I was growing up. I don't know, but I can't help feel that something is missing.
To close, I'm reminded of this prophetic interview given by Bryce Harper, his first appearance after signing a free agent contract with the Philadelphia Phillies. Listen to how he slips up when he talks about winning a championship:
I wonder what Bryce is thinking now.